Theatrical play and performance workshop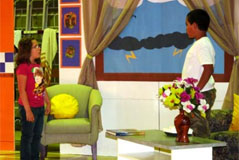 DESCRIPTION
Atelier Bleu M'ajjjiiik creates and presents the theater awareness in primary schools since 1986. The company has designed interactive methods to encourage students desire to improve their social skills.

Atelier Bleu M'ajjjiiik has developed workshops that are based on an educational and artistic approach.

These workshops are adapted for the age of the students and the needs of teachers and schools. They are offered in one or more meetings.

There are two versions of the workshop on theatrical play and performance:
KINDERGARTEN, GRADES 1 and 2
The students are led to perform exercises of voice, projection of the voice, movements, interpretation and self-consciousness. They will learn to recognize facial expressions and gestural symbolism.
- Discover the existence of different characters
- Discovery of feelings and movements
- Games of concentration and imitation
- Walk like ...
- Move like ...
- Create different voices
- Improvisation
- and much more !
GRADES 3 to 6
This theater workshop raises awareness on these elements:
- body language (attitudes, postures, movements, facial expressions, etc.);
- voice (tone, strength, projection,, etc.);
- words (choice of words, meaning of words according to tone of voice, articulation, etc.);
- space (movement, amplitude of gestures, agility, sharing space, inhabiting space, etc.);
- behavior (clarity in our gestures and our words, authenticity, verbal and nonverbal communication, etc.).
We also approach the presence on stage and sharpen the sense of observation. All these aspects of theatrical interpretation are connected and develop the capacity to put oneself in the skin of others in order to better understand the world around us.

Note: Two workshops can be run at the same time by two facilitators for two different groups.
SCHOOL YEAR/AGE
Kindergarten to Grade 6

LANGUAGE LEVEL
French as a First Language
French immersion

SCHOOL SUBJECT (PRIMARY)
Fine Arts

SCHOOL SUBJECTS (SECONDARY)
French
Health and Life Skills

LINKS WITH THE CURRICULUM
Students will have an overview of the different facets of theater play, developed a knowledge of facial expressions and gestural symbolism, and paid attention to several aspects of social behavior.

REQUIREMENTS
Workshops must be held in a room of the size of a class or larger. The material is provided by the facilitator.

NUMBER OF PARTICIPANTS
One class at a time

DURATION
Set up: 5 min
Workshop: 60 min

AVAILABILITY
Atelier Bleu Majjjiiik worshops are available in Quebec and Canada from September to June.

COST
To be determined according to the school's need.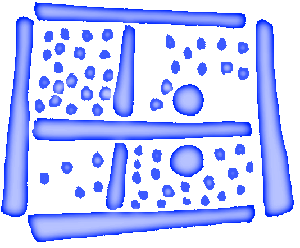 Site Web de l'Atelier Bleu M'ajjjiiik